Chinook Motor Home Plus Toy Hauler Packaged Deals!
Don't Miss These Special Packages from Chinook.
Chinook builds fine motor homes and toy haulers geared to the lifestyle of Class B Motorhome owners. And now you can buy a packaged deal -- a Chinook Motor Home plus a matching Chinook Trail Wagon Toy Hauler -- and save thousands off the MSRP.  Whichever motorhome and trailer you package, you'll travel and arrive in style.  Click to Value Your Trade-In or Apply For Financing.  Have questions?  Contact Us, or call 800-467-3905 to reach your nearest Van City Location.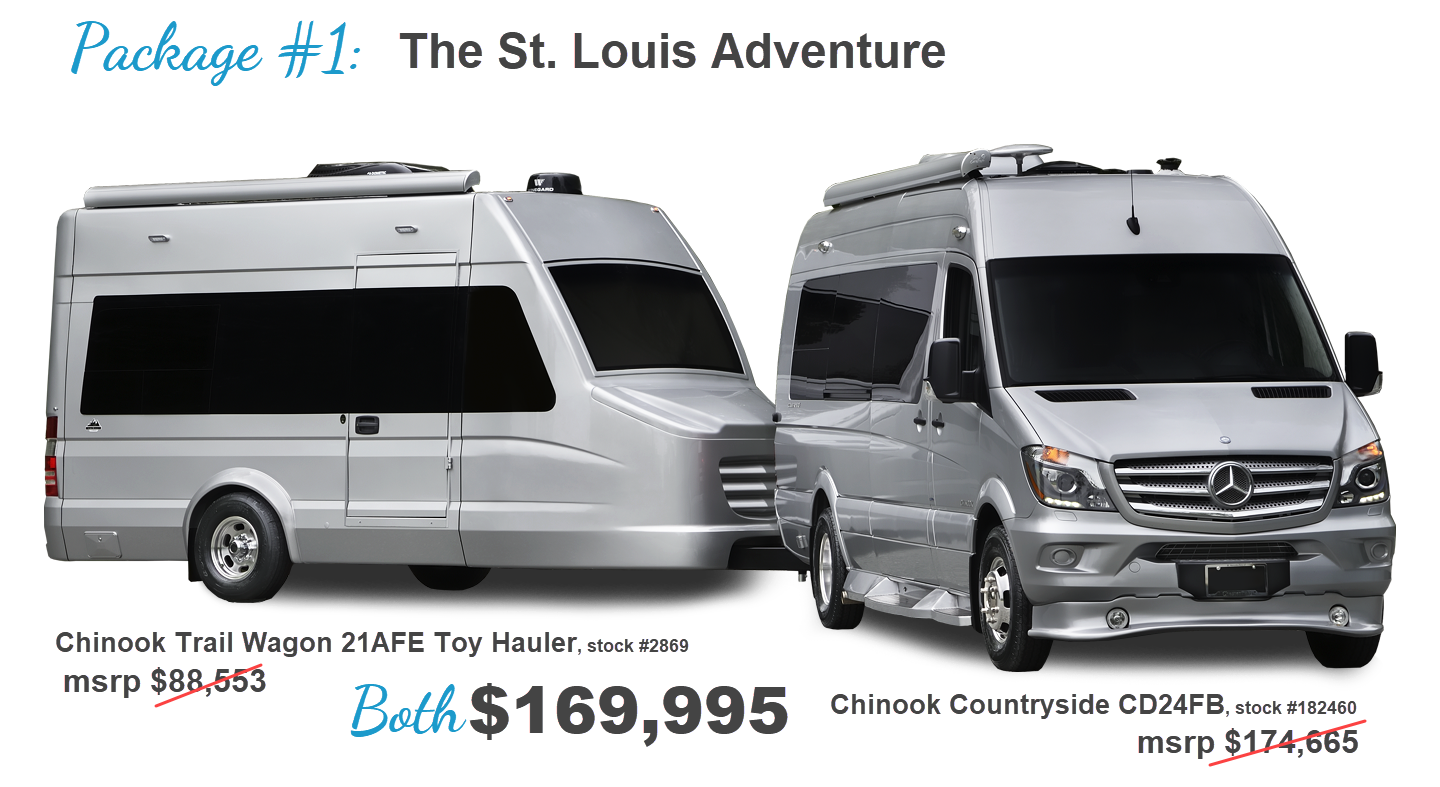 Motor Home Class B
Stock #: 4852
Length: 21 ft 11 in
Location: Kalispell, MT
Sleeps up to 2
PLATINUM

MSRP/Build Sheet:

$171,555

Save:

$27,375

SALE PRICE:

$144,180

Call for Lowest Sale Price

Stock #: 4705
Length: 21 ft 11 in
Location: Colorado Springs, CO
Sleeps up to 2
PLATINUM

MSRP/Build Sheet:

$195,773

Save:

$36,983

SALE PRICE:

$158,790

Call for Lowest Sale Price

Stock #: 5294
Length: 21 ft 11 in
Location: St Louis, MO
Sleeps up to 2
SAND

MSRP/Build Sheet:

$204,033

Save:

$36,751

SALE PRICE:

$167,282

Stock #: 4562
Length: 21 ft 11 in
Location: St Louis, MO
Sleeps up to 2

MSRP/Build Sheet:

$168,900
Travel Trailer
Stock #: 3091
Length: 21 ft 3 in
Location: Las Vegas, NV
Sleeps up to 2

MSRP/Build Sheet:

$80,126

Save:

$30,276

SALE PRICE:

$49,850
Toy Hauler Travel Trailer
Stock #: 5262
Length: 21 ft 5 in
Location: Kalispell, MT
Sleeps up to 5

MSRP/Build Sheet:

$34,640

Save:

$10,790

SALE PRICE:

$23,850