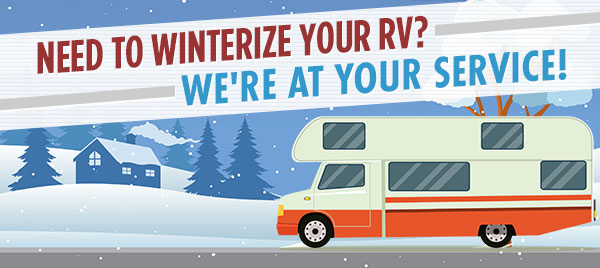 Whether you're a snowbird that's packing your bags for the winter trip south, or you need to winterize your RV, Van City RV can help!  We offer complete winterization at all of our locations.  Find out how you can save on your winterization package today.  We have four locations across the US, so book your appointment at the nearest Van City RV location.
Tune Up for the Snowbirds 
Snowbirds are always welcome at Van City RV!  If you're getting ready to beat the cold and head south for the winter, then you need to stop by our service department for a tune-up!  We'll check your engine, generator, appliances, and even run tests on your plumbing to ensure everything is ready to go.  Take advantage of our Generator Service starting at $145, or the entire Systems Check for $399.
Winterization 
If the camping season is over for you and you're ready to store your RV for the winter, then you'll need to make sure it's properly winterized.  Our Winterization packages start at $102.95.  We'll make sure your fifth wheel, travel trailer, or motorhome is all set for the cold winter months so that you can focus on the holidays and stop worrying about your RV.  Need a part replaced before storing your RV?  Let us know, and we'll get you fixed up!
Make Your Reservation Today
Now, you can have peace of mind during the freezing winter or while on the road.  By properly servicing your RV, you're protecting the long-term value of your camper and investing in the years of camping to come. Book today to take advantage of our lowest prices of the season and get your RV services before it gets too cold!  Schedule your RV servicing appointment today at your closest Van City location.

Contact us today to make your reservation for RV tune-up or winterization. We'll gladly get you set for the winter months.