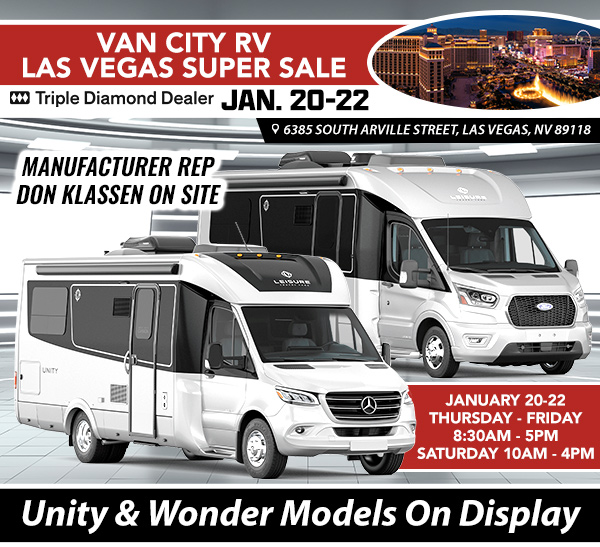 Are you looking for the perfect RV for your travels in 2022? Join us at Van City RV in Las Vegas and find your dream RV for an incredible price during this RV sale! We're keeping prices low so that you can get the amenities and features you need to enjoy your time at the campground for less. Learn more about the deals and ongoing now and how you can save big at Van City RV.
Details
Location: 6385 South Arville Street, Las Vegas, NV 89119
When: Jan. 20th-22nd
Time: Thurs. & Fri – 8:30AM – 5:00 PM, Sat. 10:00AM – 4:00PM
Leisure Travel RVs
These Leisure Travel class B+ motorhomes for sale at Van City RV are some of the best engineered RVs on the market. During this RV Show, you'll have the opportunity to meet Don Klassen, the rep for Leisure Travel, and get an inside look at Unity MB and Wonder FTP. See why these are two of the most pre-ordered RVs today and see why you should start planning your next adventure in one of these incredible motorhomes.

Before you take home one of these outstanding RVs for your future camping trips, you might want to take it for a spin. Schedule a test drive with our team and see if one of the Leisure Travel class B+ motorhomes on order at Van City RV is the right fit for your family. You'll love the chance to get behind the wheel and see how easy and comfortable these RVs are to drive. 
Maybe it's time to upgrade your RV with something new! If you're looking for a great way to get into a newer model RV with all the updated features and amenities you've been craving, trade in your RV and save even more on your next adventure!
Don't wait! This RV sale only lasts through this Saturday! Stop by today and see why these amazing RVs are the perfect way to elevate your vacations for years to come. Join us at our Van City RV location in Las Vegas, or contact us today.